Carolina is a latina mother, artist, and doula born in Venezuela and now living in Austin, TX. She has been creating jewelry since she was 10 years old. She enjoys a number of other artistic outlets like photography, painting, crocheting, felting and more. She started her business two years ago, and since then she has been creating bold statement earrings inspired by Mother Nature and her travels. She characterized herself by her use of vibrant colors and her attention to details. 
Website: Warao Clay 
Facebook: Warao Clay
Instagram: @WaraoClay 
Lucky Star Classes:  Polymer Clay Statement Earrings
Click to play podcast episode: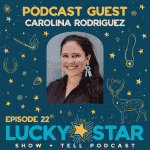 : : : Polymer Clay Statement Earrings : : :

 Class Description: In this class you will learn how to make lightweight statement earrings with polymer clay from start to finish. You will create two pairs of earrings and a jewelry dish, coaster or incense burner with your scraps. Using techniques like tie-dye, blobbing and sculpting, as well as learning to make fun textures and incorporate different materials to elevate your clay game! 
Class Offered: Half Day
Level of Difficulty: All levels welcome
Prerequisites:  None
Materials List: Class provides everything you need! 
Polymer Clay colors 

Polymer Clay adhesive 

Acrylic roller 

Shape cutters

Porcelain tile to bake

Acrylic sheet

Blade

Sculpting tools

Sandpaper 400 grit

Hand drill with small bit

Jump rings 

Jewelry pliers

Earrings studs

Crazy glue

Fun materials to add like mica powder, mother pearl pieces and more!
Class Fee: $33
How to Pay Fee: Venmo @CaroWarao or Paypal thefeltedmoon@gmail.com