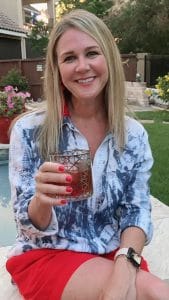 Emily Louise Jacks is a director, planner, designer, and self-professed flower lover.
A born and raised Texas gal, Emily moved to sunny SoCal, made the bold move to leave a successful corporate advertising career, got a job at a local flower shop, and started Louise Georges Yves — an independently owned event planning and design shop.
They say you can take the girl out of Texas, but apparently, not for long! Lucky enough to call Corpus Christi, Austin, Dallas, Corona del Mar and Beverly Hills home, as of late 2019, Emily is back in her home state. Yeehaw y'all! Presently residing in San Antonio, Emily is the Studio Director for Carla Royder Designs & Co serving interior design clients stretching from the Gulf Coast to the East Coast and a bunch of spots in between.
Emily graduated from the University of Texas at Austin and thanks her lucky stars that she met and roomed with Lucky Star founder, Lisa Field.
Instagram: @louisegeorgesyves
Lucky Star Classes:  Wreaths That Wow! and Crowning Glory
: : : Wreaths That Wow! : : :

Class Description
The holiday season is upon us and what better way to deck your halls and dolly up your doors? In this workshop you will receive personalized instruction and professional tips for designing a fall-inspired foliage and floral adorned wreath using a mix of fresh and preserved product. Are you ready to make a wreath that wows?!!
Class Offered: Half Day
Materials List for Students:
Floral/gardening shears (like Brussel's Bonsai Shears.) Remember that you will need to pack your shears in your checked baggage!
Ribbon or other seasonal specific accents to add a personal touch (optional).
Supplies Provided by Instructor: wreath form, seasonal floral and foliage, paddle wire, floral tape, hot glue guns, and glue sticks.
Supply Fee:  $50
How to Pay Supply Fee: Venmo @EmilyLJacks
: : : Crowning Glory : : :

Class Description
Let's be queens for a day in this hands-on class created to empower each and every one of you to design your very own floral crown! You will receive personalized instruction, professional tips, and pretty blooms to enable you to create crowns for showers, birthdays, weddings or just because!  And once you learn the fundamentals you can apply it to floral necklaces, corsages, boutonnières and more!
Class Offered: Half Day
Materials List for Students:
Floral shears (My favorites are Brussel's Bonsai Shears.) Remember that you will need to pack your shears in your checked baggage!
Ribbon/lace/trim (

1/4 – 1/2

 inch width)
Supplies Provided by Instructor: seasonal flowers, greenery, floral wire, floral tape, hot glue guns, and glue sticks
Supply Fee:  $30
How to Pay Supply Fee: Venmo @EmilyLJacks