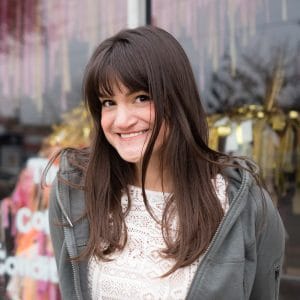 Kathianne Sellers Williams is a mama, artist, wellness coach, and dietitian. While she's had lots of jobs over the years, the uniting factor has been coaching women to nourish themselves. Kathianne believes creative expression is soul food. She's also a bibliophile, lover of serendipity, huge fan of Oprah, and a gangsta napper. She's one part old soul and one part sparkle-loving girly girl. Kathianne is currently obsessed with freeform embroidery, art journaling, and mixed-media collage. She's presently planted in Dallas, Texas.
Website: www.NourishCreateBloom.com
Instagram: @NourishCreateBloom 

Lucky Star Classes: Zen Embroidery
: : : Zen Embroidery : : :
Class Description:
Learn the art of free-hand doodling with embroidery floss. It's a great activity to promote relaxation, mindfulness, and creative expression. In free-form stitching, there are no patterns.  In this class, you will learn many basic stitches, discover what supplies work best, how to prepare your floss, and get started on your own project. Lots of completed projects will be on hand for you to get ideas and inspiration. We will end class with a sister stitch circle! No experience needed. Yes, you CAN do it!
Class Offered: Half Day
Level of Difficulty: All Levels Welcome
Prerequisites:  None
Materials List for Students:
Scissors (sewing scissors are best)
Embroidery floss in a variety of your favorite colors
Kit: $15 (required)
Included in Kit: Embroidery hoops, handouts, fabric, embroidery needles, embroidery floss, floss bobbins, ribbon
How to Pay for Kit/Supply Fee: Paypal to kathianne.williams@gmail.com or cash in class