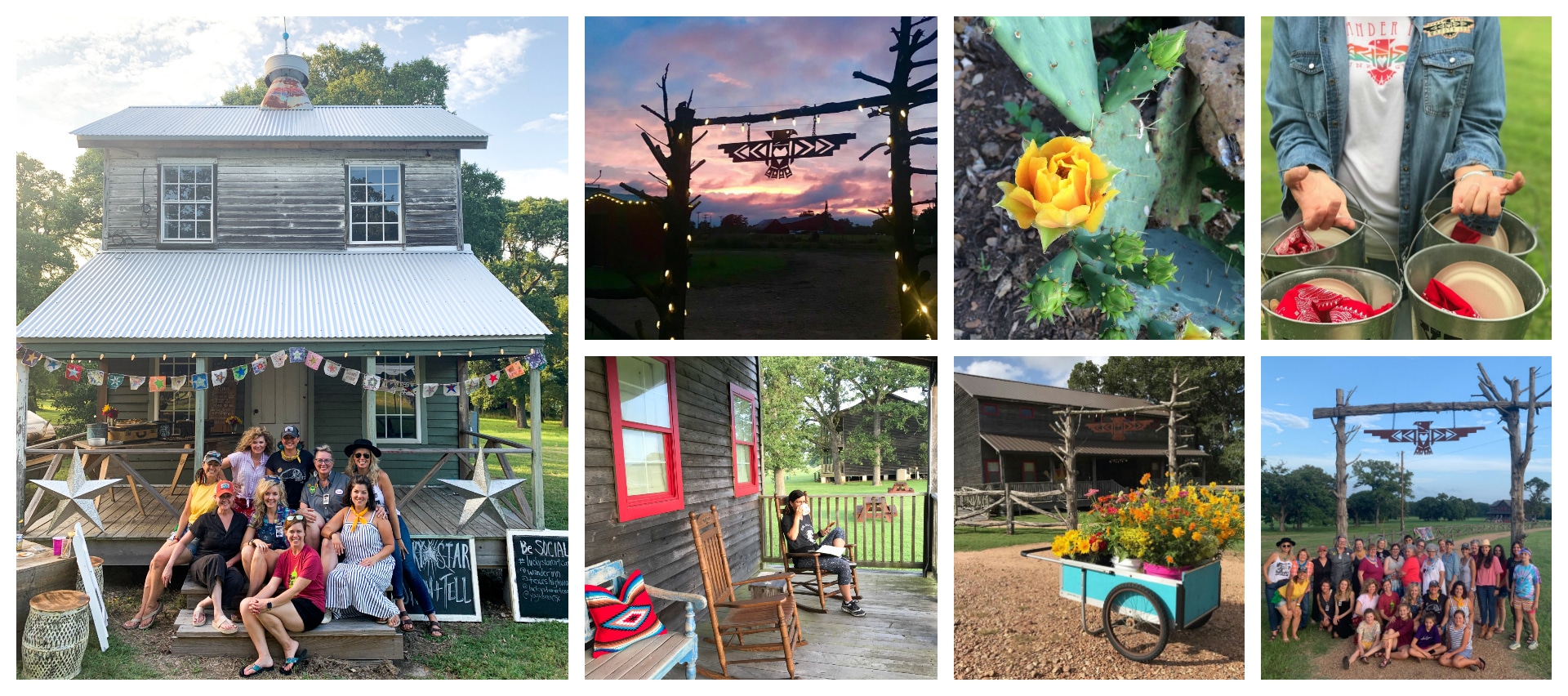 Who are the instructors and what workshops are they teaching?
We'll start the day under the giant oak trees as Tiffany Schreiner of Yoga Central Texas leads us in "Root Down to Rise Up", a gentle stretch to set our intentions and get our creative juices flowing.
Then we'll all gather in the Lucky Star tent and make "Alcohol Ink Coasters" with Lisa Field, founder and director of Lucky Star.
. . .
After lunch, we'll have two sessions in which you will get to choose to participate in two out of the three following workshops:
1) Create a floral crown fit for a gypsy queen in "Fresh Floral Crowns" with our design extraordinaire, Emily Jacks.
2) Learn the art of free-hand doodling with embroidery floss in a mini version of her popular "Zen Embroidery" nutrition and well-being coach with  Kathianne Williams
3) This is not your mama's journal!  Make a journal using thrift store and flea market finds in "Junk Journals" with the queen of crafts, kitsch, and color, Jennifer Perkins.
. . .
After our two mid-day classes, we'll take a little break and gather on the lawn between the inns:
Then our very own Rosie the Riveter, Kate O'Brien will share her skills and guide us through a tomahawk throwing workshop
And last but not least, we'll all be participating in a collaborative project to commemorate the day.
. . .
After dinner, we'll gather 'round the campfire with Lucky Star RoCkstAr/musical genius/extraordinaire, Mandy Rowden of Girl Guitar Austin! The perfect end to a perfect day! There will be something for everyone and for all levels of skill and creativity. There's certainly no need to consider yourself an artist or even the slightest bit crafty to come and join the fun!
**
BONUS!!
 If there is enough interest, our cosmic cowgirl yogi Tiffany Schreiner will lead a Sunday morning yoga class with a view of the Junk Gypsy cow pasture!
*** The inn is full, but there is still room at the event and so many other very cool places to stay in Round Top! Click on the Travel and Lodging button below for alternate lodging suggestions. ***
LIMITED NUMBER OF ROOMS AT WANDER INN
Room Rates for Wander Inn: Rate is $195/night with two night minimum, 1-4 occupancy.
Lucky Star already rented all of the rooms for that weekend, so please do not call Junk Gypsy or Wander Inn to try to book a room. For Wander Inn booking, please contact Lisa at lisahfield@yahoo.com.
Space is very limited at Wander Inn, so try booking one through Lisa as soon as you can, and if there are no more rooms available there, do not fret!  There are many great spots to stay in Round Top and we have a list of suggestions for you. Even if you don't get a room at Wander Inn, there will be opportunities for you to see inside and there's even a class taking place in one of the common areas inside.
Again, please do not call Junk Gypsy or Wander Inn to try to book a room.
To register, please fill out the online form linked below and pay in full with a check OR credit card. Registration ends June 8th. Admission is non-refundable and does not include lodging.  Lodging is booked and paid for separately.
Be sure to check out the event timeline and packing list for the details of the day, and hop over to our list of places to stay, things to do, and food to eat to make a fun weekend of it in Round Top, Texas!
Step 2 –  Pay $269 with a check to Lucky Star Show & Tell, LLC, P.O. Box 622, Hunt, Texas 78024 OR with a credit card via PayPal. Simply visit www.paypal.com and send $269 (+ 4% to cover fees = $279.76) to account lisahfield@yahoo.com.
If you're interested in being a sponsor for this event, click here.    
*** Please do not contact Junk Gypsy or Wander Inn regarding this event.  All questions should be directed to lisahfield@yahoo.com***
We are thrilled to have Melissa Newbould of Local Roots Round Top catering our event again this year.  The menu she has created for us looks amazing and her vintage, soulful style is a perfect fit for Lucky Star!

Lunch – chicken salad on a bed of romaine lettuce served with a cut of homemade bread, carrot and celery sticks with homemade ranch dressing, homemade chocolate chip cookie, freshly brewed iced tea and raspberry lemonade (vegetarian option:  tortellini pasta salad)

Appetizer – BBQ & Bacon Deviled Eggs

Dinner – lemon Caesar salad with shredded grilled chicken, roasted red potatoes, homemade bread with European and garlic butter, fresh brewed iced tea, and water

Dessert – chocolate fudge brownies, pecan cheesecake bars, lemon bars
Looking for more than just a weekend event?
Camp Lucky Star is our longer annual event which takes place each fall in Hunt, Texas.  It's a five-day women's art and whole living sleepaway camp set in the hill country of Texas. Women travel from all over the country to take in the beauty of the surroundings, attend creative workshops, make new friends, listen and share, eat good food, laugh 'til they cry, sing around the campfire, gaze at the stars, and just be in the moment.  The camp takes place at Camp Waldemar, a girl's summer camp that has been in operation since 1928.  Imagine rock cabins built into the hillside overlooking the cypress-lined banks of the Guadalupe River.  It's dreamy, it's fun, and it's happening again this November 3rd through 7th.  We hope you'll have so much fun at our weekend event that you'll leave wanting to sign up for more!