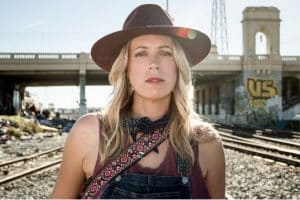 Mandy Rowden is an Austin, Tx-based singer/songwriter, multi-instrumentalist, and the creator of Girl Guitar, a women's guitar school and rock camp that is celebrating its 15th Anniversary in 2022. Mandy played classical violin and piano through college, where she began writing songs and has since worked and toured playing guitar, bass, keys, drums, fiddle, mandolin, and harmonica. Besides teaching and touring, Mandy is the resident musician at Lucky Star Art Camp and a contributing songwriter for Songs For The Soul. Her first full-length studio album 'These Bad Habits' (2015) featured Grammy winner Lloyd Maines (Dixie Chicks) and Grammy nominee Redd Volkaert (Merle Haggard) and was voted #2 Album of the Year in the Austin Chronicle Music Poll; since then she has placed in the Top Ten as Musician of the Year as well as Songwriter, Female Vocalist, Album, and Song of the Year. In March of 2018 Mandy released 'When That Day Comes' on Howlin' Dog Records and was nominated for Entertainer of the Year, Female Artist of the Year, and Album of the Year in Nashville's Josie Music Awards. Her fourth studio album, 'Parachute', was released in March of 2021 to critical acclaim. In her spare time Mandy is pursuing a Master's Degree in Music History from Texas State University.
: : : Girl Guitar : : :
Class Description:
We'll start with a brief introduction and get our instruments tuned, followed by learning 3-5 basic chords and work on switching them. During this process we'll have time to chat, laugh, and get to know each other better….mimosas are optional! From there we'll begin arranging those chords into 2-3 different songs that we'll sing along to (loud or quiet…your choice! There's no pressure to sing a solo or anything, so please don't let that part scare you!) and prepare them for a fun and rowdy sing-along at Saturday night's Lucky Star Show and Tell. There will be ample time for questions, reviewing, and adding in additional layers of skill for the more experienced players. We'll have a GREAT time and hopefully light a fire that helps you enjoy playing music long after you leave camp!
Class Offered: Half day
Level of Difficulty:  All Levels Welcome
Prerequisites: All Levels, None whatsoever! Although I have ways to make it more interesting for players who have some experience already.
Materials List for Students:
Guitar or ukulele
Tuner
Picks
Capo
Kit or Supply Fee:  none
: : : Glee Club : : :
Class Description:  Get ready to sing, shake, and shimmy! We'll learn a mashup of fun songs and moves and take them to the stage at Lucky Star Show and Tell. Any and all are welcome regardless of musical and dance experience.
Glee Club will meet Thursday, Friday, and Saturday to practice before the Saturday night performance.
Class Offered: Extra outside of class time
Level of Difficulty:  All Levels Welcome!
Supply Fee:  $20 in advance via PayPal to lisahfield@yahoo.com or Venmo Lisa-Field-2
Supply Fee includes:  A hot-to-trot Glee Club t-shirt!!!
: : : Private Guitar + Ukulele Lessons : : :
Description:  Want to work out a few kinks? Learn a specific song? Try a new technique? Get some new perspective? Join me for a half or full hour lesson on guitar or ukulele hats custom fitted just for your needs. We'll have a great time and get you out of there with new tricks!
Offered:  Outside of class time  Wednesday – Saturday by appointment, sign-up in advance or at check-in
Fee:  $35/half hour session or $70/full hour session