Nam Joti Kaur Khalsa is a self-taught professional Henna artist and has been practicing the art of Henna adornment for herself and others for over twenty years. She also teaches about the history of Henna's uses throughout time and place.
Nam finds inspiration for her art through the natural world, ancient textiles and folk art. She has taught the course that she developed: "The Mystery & Art Of Henna" in person, virtually and at the "Good Medicine Confluence" in Durango, Colorado. 
Nam is a mother, wife, teacher of Yoga and meditation, practicing herbalist, gardener and maker of brooms and heirloom dolls. She lives on a homestead in the Texas Hill Country where she and her family raise goats, rabbits, chickens, ducks and pigs. 
Website: BlueCypressSchool.org
Instagram: @bluecypressbotanicals
Lucky Star Classes:  The Mystery & Art Of Henna, and Henna Adornment "Extra"
Click to play podcast episode: 
: : : The Mystery & Art Of Henna : : :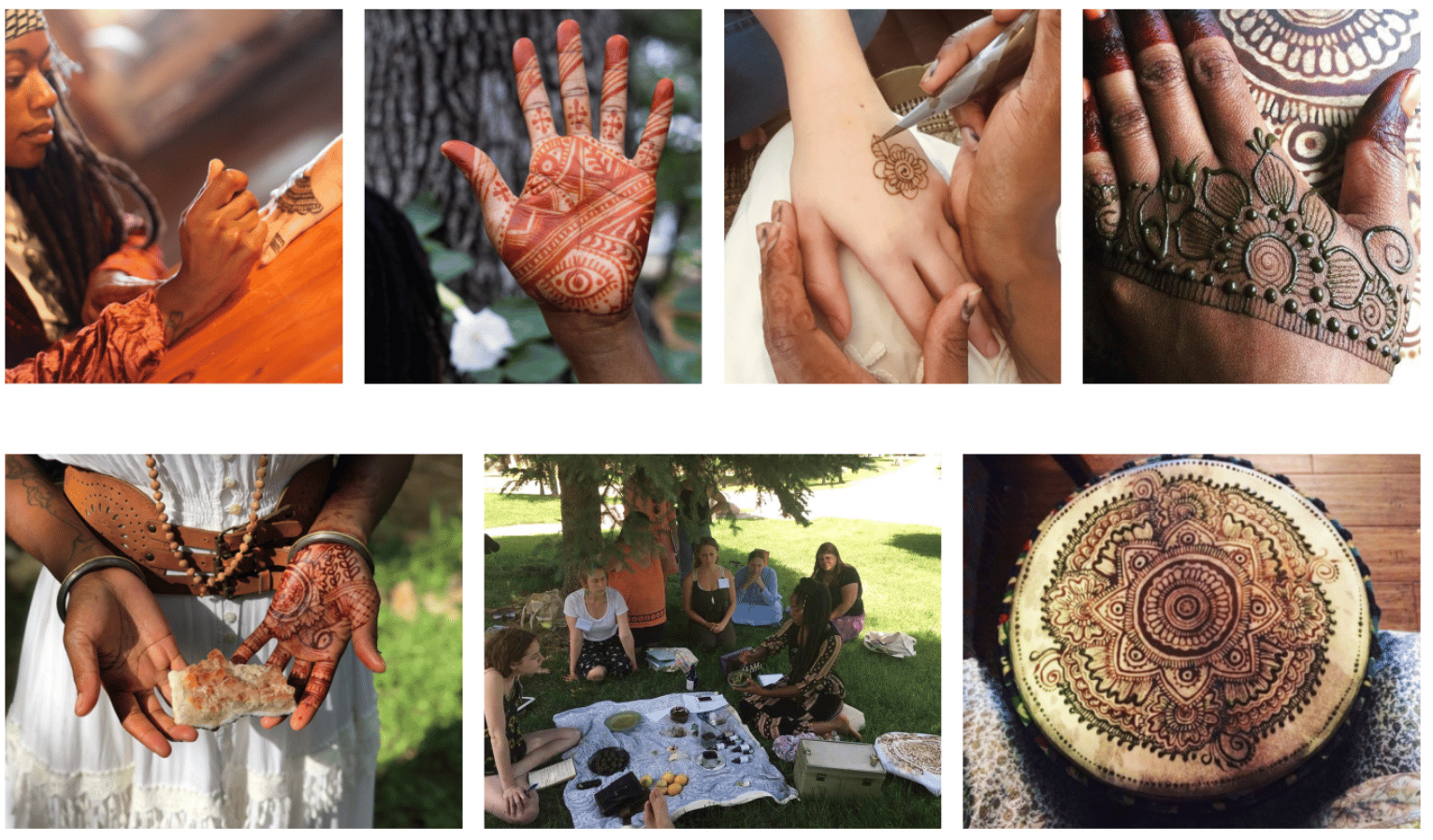 Class Description:
People all over the world have been working with the Henna plant for over 6,000 years. In our workshop, "The Mystery & Art Of Henna," we will journey throughout time and place to explore the history and art of Henna. As a participant in this magical class, you will learn the practice of Henna adornment – from formulating unique recipes and mixing your own paste, to learning various methods of application. Women have been gathering together through time immemorial to bond through the beauty and intimacy of Henna adornment. May this class serve as an introduction to your relationship with Henna and the secrets she will unfold to you.
Class Offered: Half Day
Level of Difficulty: All Levels Welcome
Prerequisites:  None
Supply Fee: $30
How to Pay Supply Fee: Please make payment in advance to Nam Joti via Venmo (@bluecypressschool) or PayPal (bluecypressschoolofholism@gmail.com)
: : : Henna Adornment : : :

Service Description::
Henna is a magical plant that, when ground into a paste and applied to the skin, binds to the keratin and leaves behind a reddish brown stain. Receiving Henna from a well practiced artist is a rite of passage and an intimate bonding experience. Some would call it sacred. Nam Joti will be available for Henna adornment services in between class times. This is an opportunity to slow down and allow yourself to be honored. 
Service for Fee "Extra" Offered:  In 30 minute sessions outside of class time Thursday, Friday, or Saturday afternoon (you can book in advance with Nam via email bluecypressschoolofholism@gmail.com, on her website at BlueCypressSchool.org, or on sign up sheets at camp)
Fee: $30 per half hour session (larger designs can be done in two time slots, or a one hour session)
How to Pay Fee: Please make payment in advance to Nam Joti via Venmo (@bluecypressschool) or PayPal (bluecypressschoolofholism@gmail.com)