Hello happy campers!
I'm Shawna Martin: Artist, wife, and mother of two teens, coming to you from Austin Texas.  As a long-time artist and Lucky Star camper, I got my teaching start at Lucky Star 9 years ago! I went on to start a professional career in teaching Art to elementary and now middle school students in Lake Travis ISD. A perfect fit for me, since I love to experiment in new techniques and work with a variety of materials. When I'm not teaching or making Art, I am cooking, coaching or driving kids to Volleyball, practicing yoga, or spending time in nature. I also love traveling…who doesn't?
I feel so lucky to be a part of this group that values nurturing the creative self, because empowering and facilitating people to do just that is my purpose and calling! I look forward to having fun with you and making something pretty…or pretty weird.
See you at Waldemar!
Instagram: @shawnarmartin
Lucky Star Classes:  Mosaic Magic
Click to play podcast episode: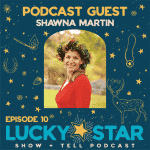 : : : Mosaic Magic : : :

Class Description:
In this half-day class, students will create a 2-D relief mosaic using glass, ceramic, plastic objects, shells, buttons and whatever tiny odds and ends you can scrape together! This creative process is FUN…a lot like collage, but in relief! This is a piece of Art you can hang indoors or outside. Each student will draw a simple composition- abstract or representational depending on your skill level- then we'll "color it in" with tiles and objects, exploring various color schemes, pattern, form and texture to create a frame-able, wall-mounted Art piece. A 9×12 tile backer board, mortar, and grout will be provided for each student, as well as a selection of mosaic bits to choose from. Bring that broken mirror or dish and we will re-imagine it! I encourage everyone to come with a mindset to swap and share their bits and pieces for maximum creative excitement! Thrift store dishware, the junk drawer, or your kids' old toy box are great places to search for material inspiration! Bits and bobs from your personal history can make your piece unique and meaningful.
**This Class requires participation in a Saturday Mosaic "Extra"(additional cost $10), where we will apply grout to our mosaics after a 24 hr drying period, to have them ready for the Show and Tell on Saturday night***
Supply list for students to bring:
A preliminary sketch of your design
Protective gloves to wear while grouting and Tile snippers (Amazon: https://a.co/d/9KAyN30)
old credit/gift cards (to spread grout and mortar)
old cleaning rag or sponge
glass, beads, keys, tiny toys, buttons, old jewelry, chipped or broken ceramic ware or mirror (we can break it down!) etc.
**Choose mosaic pieces that are similar in thickness to make grouting easier**
Supply fee of $ 20 includes: 
-9×12 tile backer board
-mortar and admix
-grout (black or white)
-basic selection of mosaic pieces to choose from….but do bring some for yourself, if you have a particular color palette in mind, AND to share/swap as well!