Stacy demystifies ancient wellness practices and unfolds them in ways anyone can access. She infuses her work with acceptance, humor, and understanding and encourages her clients and students to cultivate cheerfulness and a sense of curiosity about themselves. Stacy creates a comfortable space for students of all abilities to explore the union of the body, breath, and mind, conjoined with the healing nature of the earth.
Naturally self-reflective, Stacy has been studying astrology for most of her life. In everything she does, she studies patterns and projects trends. She's adept at seeing what is inherently good in people while also acknowledging we all have gaps. Solution-focused, she will remind you where your miracles are and how to move out of your own way to realize them.
She delights in nature and gardening, enjoying time with her family and friends, finding focus time on her yoga mat or a sweaty workout in the gym, collaging her way through her daily journal, and sipping nourishing infusions developed in her apothecary. Stacy enthusiastically returns Lucky Star, ready to embrace a holistic approach to life with you.
LinkedIn: www.linkedin.com/in/stacywooster
Click to play podcast episode: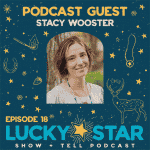 : : : Roots & Remedy : : :
Class Description:
In this self-care class, we will explore holistic strategies to meet the stressors of modern-day existence, maintain a sense of well-being and vitality, and thrive within the circumstances of your life.
We'll begin with a gentle movement practice and learn meditation techniques for centering and ease. You'll create your own mindfulness journal with prompts to make meditating simple, while we sip on nourishing herbal infusions.
Then we'll dive into creating our own artisanal wellness products by crafting a class scrub and facial tea plus your own take-home tea and bath salts.
Class Offered: Half Day
Level of Difficulty: All Levels Welcome
Prerequisites:  None
Materials List for Students:
Yoga mat + blanket or pillows for seated comfort

Hand towel + wash cloth

Tea mug

Coloring utensils
Supplies Provided by Instructor: 
Meditation journal, printed prompts, and use of class pens, glue sticks, and washi tape

Herbal supplies and packaging plus all mixing bowls, hot pads, and tools
Supply Fee: $25
How to Pay for Supply Fee: Venmo @Stacy-Wooster
: : : Your Lucky Stars (Astrology) : : :
Service Offered Outside of Class Time:
There are different lenses for self-perception. Internal awareness is key to personal growth and evolution. Astrology offers a magnifying glass to our inner world and how our own divinity shines.
You came with a blueprint. You can examine it to bolster your strengths and meet your challenges.
Diving into the basics of your astrological profile, I help you look at your sun, moon, and rising signs. I can help you understand how that affects who you are, how you live, and why you feel inclined to do what you do. You can use this to your advantage to have clarity about opportunities in your life and how to meet obstacles with grace.
Investment: $40
20-minute session by appointment only. Limited availability. Please schedule with Stacy- stacywooster@gmail.com prior to camp.
Please provide your full date, exact time, and location of birth.