Tiffany Schreiner knew from her very first yoga class that her life was forever changed. For her,  the art of yoga is a gift to be shared with all. She shares her gifts of prismatic yoga, dance, reflexology, essential oil integrations, theater arts, and cosmic cowgirl legacy living in hopes of providing others with this same opportunity for hope, revelation, inspiration, and healing transformation. In a world where we all face daily challenges, she believes that to ensure more harmony in one's life, it is essential to slow down, tune in, and breathe deeply in our yoga practice. Forever in love with movement and its connection to wellness and creativity, she has studied an array of yoga lineages and artful healing portals across the past 30 years.  Her most recent accomplishment was the founding of Sirena Festival and Parade.
Tiffany can be found in her Yoga Barn in Salado, Texas, leading yoga and theatrical arts adventures at her children's arts workshops via Silver Spur Arts Imagineers Academy and swimming in her ever deepening Texas mermaid mantras along her favorite TX rivers. Her undying belief in each of our journeys to glisten & thrive beyond survival drives all that she is and all that she gives to each student ages 2-102.
You can follow Tiff's cosmic cowgirl adventures on Facebook at The Yoga Barn and Silver Spur Arts Academy, on her website  www.sirenafest.com, via Instagram @imagineertxyoga , #theyogabarn or #imagineertxyoga and you can read more about Tiffany in this Bell County publication.
Be on the look out for her upcoming stardusted Cosmic Cowgirl book and more!
Lucky Star Classes:  Cosmic Cowgirl Yoga
Offered:  Evenings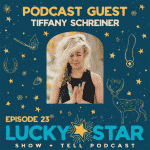 : : : Cosmic Cowgirl Yoga : : :
Class Description:
Offered:  Thursday, Friday, & Saturday Evenings
Level of Difficulty:  All Levels Welcome
Materials List for Students:  
yoga mat*
towel
water
Bring some warm gear – jacket, sweatshirt, warm leggings, blanket, beanie
*There will also be some mats available at camp.
Fee:  $20 per drop-in session, or $15 per session if prepaid
How to Pay Fee:
PayPal account: cosmicbanditastx@gmail.com
Venmo @Tiffany-Schreiner-21
OR with cash in person