Yasmin Youssef is a visual artist living and working in Austin, Texas. Her mixed media collage, NFTs, and cyanotype work is influenced by her multi-cultural heritage as well as her professional careers as a Middle Eastern dancer and User Experience designer. While designing enterprise level software for the tech industry, Yasmin was also performing nationally and internationally with Thievery Corporation, Govinda, and as a member of the dance collective she co-founded. Yasmin's artistic pursuits expanded into visual art as a natural way to gather and present ethereal & moving experiences.
In her mixed media works, inspired by lifespans of beauty and decay in the Natural World, Yasmin reveals deep layers and rich texture by building up and scraping back materials such as vintage collage ephemera, plaster, acrylics, gold leaf, and mark-making. Her work reveals rich color palettes, elements from the Natural World, and moods of introspection, connection, and internal strength.
This will be Yasmin's first time teaching at Lucky Star Art Camp and she is excited to share her techniques for creating mixed media collage portraits as well as mini travel journals.   
Website: Yasmin.ws
Facebook: TheGoldCurrent
Instagram: @thegoldcurrent
Pinterest:  @thegoldcurrent
Lucky Star Classes:  Mixed Media Collage Portraits and Mini Travel Journals
: : : Mixed Media Collage Portraits : : :

Class Description:
In this mixed media class, we will use paint, collage, and mark-making to create a richly layered portrait of a woman with flowers in her hair. Students will walk away with a finished portrait and techniques for building up and scraping back foundation layers, creating and using a mark-making library, playing with paint, adding meaningful symbolism, and exploring the power of collage composition.
This class will not focus on drawing or painting a portrait. Instead, we will be using images from magazines or photocopied pictures of a strong woman in your life. These could be images of yourself, your daughter, sister, mother, best friend, or inspirational role model. See the collage material section for specifications on image size.
Class Offered: Half Day
Level of Difficulty: All Levels Welcome
Prerequisites:  None
Materials List for Students: 
Collage Material–
Bring 2-3 images of a person directly facing the camera or in ¾ profile (see examples in collage above). This picture can be of a stranger in a magazine, be a copy of a photograph of yourself or a favorite family member or inspirational figure. Bring a b/w and color laser photocopy of each image. IMPORTANT: Ideally, the head and neck would print out to be 3-4 inches wide and 6-7 inches tall.

Pre-cut flowers, birds, plants, or any other symbolic collage images or graphics you'd like to include in your portrait. 

Inspirational quote or meditation

Vintage ephemera for background layers (sheet music, handmade paper, maps, etc)
Household Items–
Scissors, 2 magazines, mechanical pencil with eraser, old credit card or hotel key, ruler, an apron. Heat gun or hair dryer if you can easily bring it, if not, we will share.
Art Store Items–
Optional–
Water mister/spray bottle. Here's a travel size bottle from

DickBlick

.  

Masking or washi tape in your favorite design/color.
Supply Fee: $0
: : : Mini Travel Journal : : :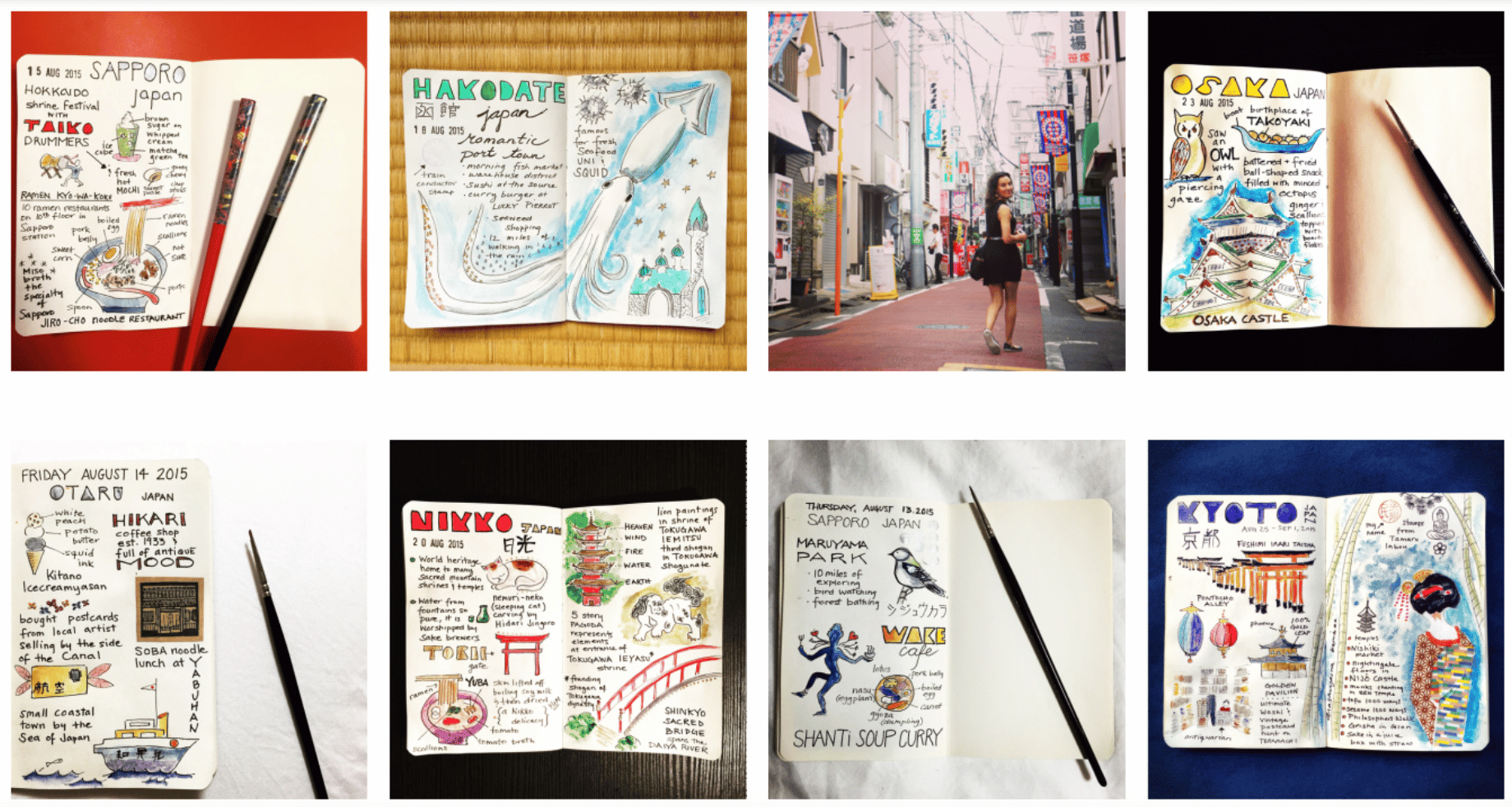 Class Description:
In this class, we will be capturing our Lucky Star adventures in a mini travel journal. We will be using watercolor, short journaling, collage (optional), hand-lettering and anything-goes sketching to document our favorite camp activities and memories.  
In preparation for this class, use your phone to photograph memorable Lucky Star experiences leading up to this class. This could be photos of food, activities, friends, cabin, campgrounds, etc. We will use these photos as reference when sketching in our journal. No previous drawing experience is necessary! 
Optional: If you have paper ephemera, stickers, receipts, or anything else that represents your Lucky Star adventure in some fashion, bring it to include in your travel journal.
Class Offered:  Half Day 
Level of Difficulty:  All Levels Welcome
Prerequisites:  None
Materials List for Students:
Blank mini journal. I use these

5 ½ x 3 ½ Moleskin pocket journals

. Note: the  pages are VERY thin. I'm ok with that because it makes the journal feel less "precious" to me and I'm more likely to try new things in it.  If you want to use a mini journal made with water color paper, that is great too. Here's a link to a

3 ½ x 5 ½ Moleskin watercolor journal

.

Waterproof black ink felt tip pen (ie. Sharpie fine tip felt pen, Posca, or Micron)

Mechanical pencil with eraser

Watercolor set

Very thin round watercolor brushes. 

Sakura gelly roll pens in your favorite colors. I usually use white and fun metallic colors. 

Washi tape and clear scotch tape

Ruler. Bring what you have or opt for this

clear mini ruler

, which is great for travel. 
Optional
If you want to include collage, bring a Glue Stick. I will be using these acid-free, non-toxic glue sticks that glide on blue but dry clear.  (Available from

DickBlick

)

Scissors

Colored pencils

Date rubber stamps and ink
Supply Fee: $0