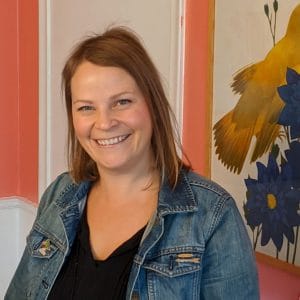 Carolyn Marco is a Dallas native with a passion for creating, teaching and helping others.  Former Creative Director and Jewelry Designer for Fossil, she traded the corporate world to focus on creative experiences.  Carolyn facilitates Maker Programs at the at The Perot Museum of Nature and Science and she also guides family art workshops and drop-in studios at the Dallas Museum of Art and Nasher Sculpture Center.  Committed to putting less waste in the world, she shapes projects based on material donations received and re-purposes old or worn items into something new.  Carolyn explores various creative outlets, from daily journaling and sketching to weaving, jewelry making and the occasional paint-by-number.  A frequent traveler, museum-goer, coffee-drinker, beer-sipper, book-reader, puzzle-completer, sun-worshiper, mermaid-in-training, she enjoys any reason to be outdoors or to spend time with friends and family.
Facebook: Carolyn Marco
Instagram: @kiki_knows_art

Lucky Star Classes: Hula-Hoop Weaving and Recycled Metal & Leather Jewelry
: : : Hula-Hoop Weaving: : : :
Class Description:
This is a super fulfilling way to repurpose old fabrics, leftover yarn and worn out T-shirts!  Weaving is meditative and truly relaxing.  No weaving experience needed.
You will need at least 1 T-shirt (size L) to create the base of our loom.  T-shirts can be sleeveless, long-sleeve or short-sleeve. It is okay if there are designs, writing or printing on the shirt.   All will work!  Keep in mind that if there are sleeves you will have more material to use.
The goal here is to use things you already have! If you don't have enough, ask around for leftover yarn, T-shirts that your friends don't wear anymore, fabric scraps from your quilting friends, you get the idea! The more eclectic mix, the better.  If you need to purchase items, I encourage a visit to your local thrift store or your local Facebook marketplace.
To help with quantities, for the example shown, I used 7 T-shirts and less than half a skein of yarn to create 20" round rug (without tassels)
Class Offered: Half Day
Level of Difficulty: All Levels Welcome
Prerequisites:  None
Materials List for Students:
To bring or borrow from a friend 
1 Hula Hoop in any size!  I used a 36″ hoop but any size will work.  You can only make your rug as big as you hoop!  The hoop will be kept intact so you can easily borrow this item.
Awesome fabric scissors or rotary cutter and mat
ANY mix of the following – beg / borrow / gather or thrift!
Old T-shirts in a variety of colors
Yarn in variety of colors / thicknesses (important if you want to add tassels!)
Misc fabric / material to cut into strips
To help with quantities, for the example shown, I used 7 T-shirts and less than half a skein of yarn to create 20" round rug (without tassels)
Supplies Provided by Instructor: none
Supply Fee: none
How to Pay for Kit/Supply Fee: n/a
: : : Recycled Metal & Leather Jewelry : : :
Class Description:
In this jewelry making class, campers will transform old tins and salvaged leather skins into wearable art.  Using basic tools – leather shears, metal snips, sandpaper and pliers – the creation process is simple with endless possibilities!
All leather will be provided.  The skins are salvaged that have been donated for our use.  There will be a variety of colors, finishes and patterns to choose from.  I will also bring an assortment of old tins rescued from garage sales and thrift stores that we will use for our creations.
If you have an old leather item or old metal tin that you'd like repurpose, feel free to bring it in!
The goal is not to create waste, so I do not require you to bring many supplies aside from the basics — paper or a sketchbook, a pencil and a sharpie.  The rest of the items are optional.
The supply fee allows the use of all of the listed materials and tools during the class.  These are not take-home tools.
Class Offered: Half Day
Level of Difficulty: All Levels Welcome
Prerequisites:  None
Materials List for Students:
Paper and pencil to sketch your design,
Sharpie marker with new pointy tip,
Old leather item to be cut up / used for your design (optional, many skins will be provided)
Old metal tin to be cut up / used for your design (optional, many will be provided)
Chain for pendant if you plan on making a necklace (optional, waxed cord will be provided)
Earring posts and backs (optional, earring wires will be provided)
Supplies Provided by Instructor: Old metal tins, leather skins in various colors / textures, metal shears, leather shears, pliers, leather glue, sandpaper, metal files, hammers, metal and leather punches, waxed cord for necklaces or bracelets, earring wires, metal jump rings, safety goggles, work gloves and access to Carolyn's personal tools and drawing templates
The supply fee allows the use of all of the listed materials and tools during the class.  These are not take-home tools
Supply Fee: $25
How to Pay for Supply Fee: Venmo @Carolyn-Marco