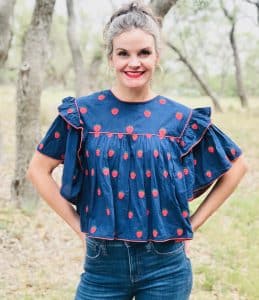 Liberty has spent her life exploring creativity, straight up hunting it down!  Her grandfather is an incredible artist, so she grew up admiring the sculptures in his studio and being immersed in the world of art at a very young age. He loved art in all its forms and encouraged her exploring different visual arts mediums as well as dance. It was no surprise that she attended an arts High School in South Florida and then graduated college earning a degree in Musical Theatre with a concentration in Dance. After graduation Liberty moved to NYC to chase Broadway and met her now husband in a worship band they were in together. They moved to Nashville to pursue music, film, television and teach dance at the Nashville School of Dance. When their son came along they moved to hubby's home town, Kerrville, Texas and once here had twin girls! With a new career as a cray at home mom (that wasn't a typo), Liberty turned to visual arts like mixed media collage, jewelry making, painting, sewing, eating chocolate, etc. Her small business, Willow Ivy and Whimsy, was birthed out of making hair bows for her twin infants. "I was spending a small fortune on bows and wondered why I wasn't just making them! Willow and Ivy are our twins' middle names and Whimsy would have been the name of our triplet we lost in utero. I felt like chasing down the art in me was a good way to honor her and my girls. Some day I'll return to the stage but for now creating art with, not my voice, but my hands, is my outlet. To be honest, it was the best thing that could have happened. I've found new loves!"
Facebook: Willow, Ivy & Whimsy
Instagram: WillowIvyandWhimsy
Lucky Star Classes: Felt Whimsy– Succulents and Blooms
Click to play podcast episode:
: : : Felt Whimsy – Succulents and Blooms : : :
Class Description:
In this whimsical class, artists will transform sheets of wool felt into stemmed blooms that can be potted, wrapped on a wreath or frame or worn in the hair to adorn the creator. The creation process is friendly to beginners using basic tools like sharp scissors, a hot glue gun and of course wool felt. 
Did you know not all felt is created equally? I highly suggest WOOL felt. I like to purchase mine from Etsy and I really like the quality and value of "SweetStuffbyJen". You can pick your colors and they're great! When you are selecting your colors think of course of succulents but I'm going to be teaching a few other particular blooms: Magnolia, Lavender, Sunflower, Poppy, Poinsettia and Mum. (I've got the holidays on my mind already!) So if any of those blooms appeal to you, order the colors you'll need accordingly! 
Supply Fee: None, just come with your own materials ready to go! Don't forget to allow time to order your wool felt. The Hobby Lobby selection will be polyester and it just doesn't work as well or look as lovely. 
Class Offered: Half Day
Level of Difficulty: Art Ninja! Kidding! All levels do great in this class!
Prerequisites:  Being awesome! Ready to smile and laugh! Please come with your favorite joke ready to go! 
Materials List for Students:
Scissors, sharp to get clean cuts

Hot glue gun. This

Surebonder

with a detail tip on Amazon is my fav!

Extra glue sticks! 

WOOL felt in various colors. You can go natural, true to nature colors or monochrome, black & white, pastels etc)

SweetStuffByJen

A pen and maybe some card stock if you want to make templates. 

A disappearing ink craft pen works great if you want to make cuts from a template and not free hand.

Disappearing Ink Pen

A great tool to have is a little pair of super pointy, sharp

Embroidery Scissors

A canvas or vessel for your blooms!  A little flower pot, vintage tea cup, wreath, picture frame, hanging air plant pot, dream catcher, get creative! Or simply tuck them behind your ear or in a messy bun. Sometimes I attach a single stem to the ribbon of a gift. 

Some fluff for your faux root babies to stand in. Pea gravel, moss, fish tank rocks, wood shavings. 

Some wool balls for the center of some of your flowers. Black for a poppy for example. 

Optional: You may also want some floral foam to stick inside your vessel to help position your bloom. Sometimes the moss or shavings are enough. ALSO, I love to use Bible pages, sheet music or news paper clippings that are special to me for a more abstract version of a bloom with felt. If you have anything you want to bring, please do!
Supplies Provided by Instructor: Chocolate. 
Supply Fee: Hugs. Also, Must wear a stem in your hair around the campfire whilst singing loudly! 
I can't wait to get creating with y'all! We're going to have FUN!