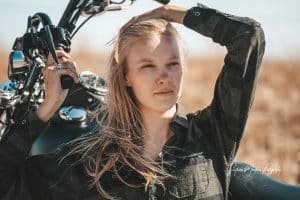 Emily Stewart is a Welder, Diesel Technician, lover of motorcycles and all things DIY. Originally from Central New York, she now hails from The Black Hills of South Dakota. With goals of empowering women, she works for Ride Wild, a company encouraging women in powersports. Most of her time is split between riding motorcycles and working on metal art and projects in the shop. She uses welding as her artistic outlet. Creating roses, tables, motorcycle parts, trinkets and more. 
Instagram @emilydury
Lucky Star Classes:  Intro to Welding and Torches: Metal Rose
Click to play podcast episode:
: : Intro to Welding and Torches: Metal Rose  : :
Class Description:
In this class you will learn the basics of welding and torch work. We will turn a few discs into beautiful roses that you will be able to take home with you. We will use basic hand tools – a few pairs of pliers and a torch to shape the discs into a rose. For those wanting to practice their welding skills after the rose is complete there will be some metal set aside so you can practice your new skills by welding your initials into a "coupon".
If you have a small project you would like to try, in addition to the rose and "coupon", feel free to bring the items you would like to weld and Emily can guide you if there is extra time. 
Class Offered: Half Day
Level of Difficulty: All Levels Welcome
Prerequisites:  None. We will teach you everything you need to know.
Materials List for Students:
Wear long pants and closed toed shoes, long hair should be tied back
Supply Fee: $25
Supplies Provided by Instructor:  All metal, tools, welder, torches, and protective gear will be provided for use to make your rose and "coupon" during class.  PPE (Protective equipment, welding helmet, safety glasses, gloves, jacket) will also be provided, but please let me know in advance if you have access to PPE that you can bring from home. 
How to Pay for Supply Fee: Venmo @helpmegethome